Brand History
---

Born in Italy, Designed in France

---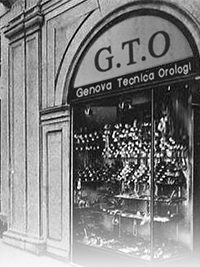 Born in 1903, Philippe Gaso's grandfather opened his watch store, named Genova Tecnica Orologi, in Genoa in 1930. Its main activity consisted in selling and repairing the first waterproof wristwatches endowed with automatic movement, which was truly significant and unusual at the time.

His passion for the precision mechanics and especially his pleasure to work on the first complication models enable the store to develop high end demanding customer base used to high quality products and service.

Philippe Gaso's mother was born in 1936 and lived her entire childhood by the rhythm of the family store's clocks.

Mussolini was coming to power in Italy and his actions and political choices plunged the country into war and a deep economic crisis. His grandfather opposed the new regime and joined the resistance movement, forcing his family to take care of the shop without him. When the situation became critical, they decided to exile themselves to Algeria to avoid Mussolini's fascist regime. This land of refuge, though chosen by many Italians, forced them to start all over again.
Due to this development, Philippe Gaso was born in Algiers in 1961. But history repeats itself as Algeria is thrown into the turmoil of war and the family must give up everything once again and go into exile, but this time in France where they arrive in 1962.

Fascinated from an early age by the micromechanics and the precision models, Philippe Gaso becomes very quickly interested in electronics and watch-making to do his business.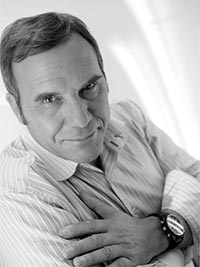 In 1983, at the age of 22, Philippe Gaso creates his own company: the group Flip Technology specialized in on-board instrumentation for motor vehicles.

An amateur racing driver his entire life, he finally decided to create his own timepieces, carrying his new GTO brand; a symbol of style, designed with passion.

GTO's three letters then became the symbol of tradition, a tribute to his grandfather.

Focused on specific functions, the GTO watches are specifically fitted for sports and able to support amateurs and professionals in time management.

Designed in France, the GTO watches are inspired by a line of legendary cars and are now an essential tool for drivers and car enthusiasts.

Much more than simple accessories, GTO's models represent a state of mind, a way of life.
FROM SPEEDOMETER TO WATCH...
In the 80's, Philippe Gaso, an electronics engineer by trade, creates the group Flip Technology specialized in the conception and the repair of onboard instrumentation for motor vehicles.

At this time, conventional clocks such as gears, teeth, hands and so on only composed the instrumentation.

The path of Flip Technology can be linked to a renowned brand in the Swiss watch-making industry, which had created a meters and instrumentation department for motor vehicles.

Flip Technology has now more than 30 years of experience in the field of onboard instrumentation. Its founder, Philippe Gaso, fascinated by car-racing and technical watches, decided to set up his own timepieces by creating the GTO watch-making division.

This new division benefits from the experience.